Healthy Lifestyle Program
Fitness over 50 with nicki belle
Hi, I'm Nicki Belle
I'm in my 60's and wanted to share with you my tips and tools for staying healthy and creating a healthy lifestyle at all ages. 
3 Steps to a healthy lifestlye in your 50's & 60's& 70's
Fitness, Nutrition & Supplements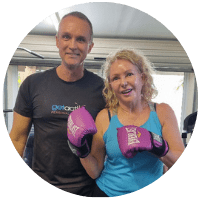 Fitness
Staying fit as you age is one of the best things you can do for yourself. As you age fitness should be more about increases your mobility, balance, reducing stress and increasing your metabolism.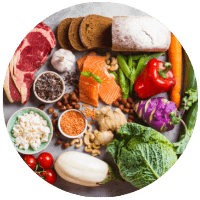 Nutrition
Eating well is more essential than ever as we age. Including a good mix of protein, healthy fats, fruts, vegetables and non processed carbohydrates is a great start. 
Supplements
It's not always possible to get all the vitamins and minerals we need through our nutrition and that's where supplements come in. Below you'll find some supplements especially beneficial for anyone over 50!
welcome to our
Healthy Lifestyle Program
Our program is all about meeting the fitness, nutrition and supplement needs of women in their 50's, 60's and 70's.
As you age staying fit and eating well is more important than ever, although your bodies requirements are quite different to what you needed in your 20's and 30's. Gone are the days of high intensity exercise and fad diets. The focus as you age should be on including exercise that keeps your heart, muscles and joints healthy, enables you to move pain free and gives you energy. Your diet should consist of a wide range of nutrient dense foods and ideally lots that are high in collagen. Below you will find a variety of tips to get you started, you can also jump into our Back to Bascis Online Bootcamp with Bec Kurtz if you're wanting more support and accountability.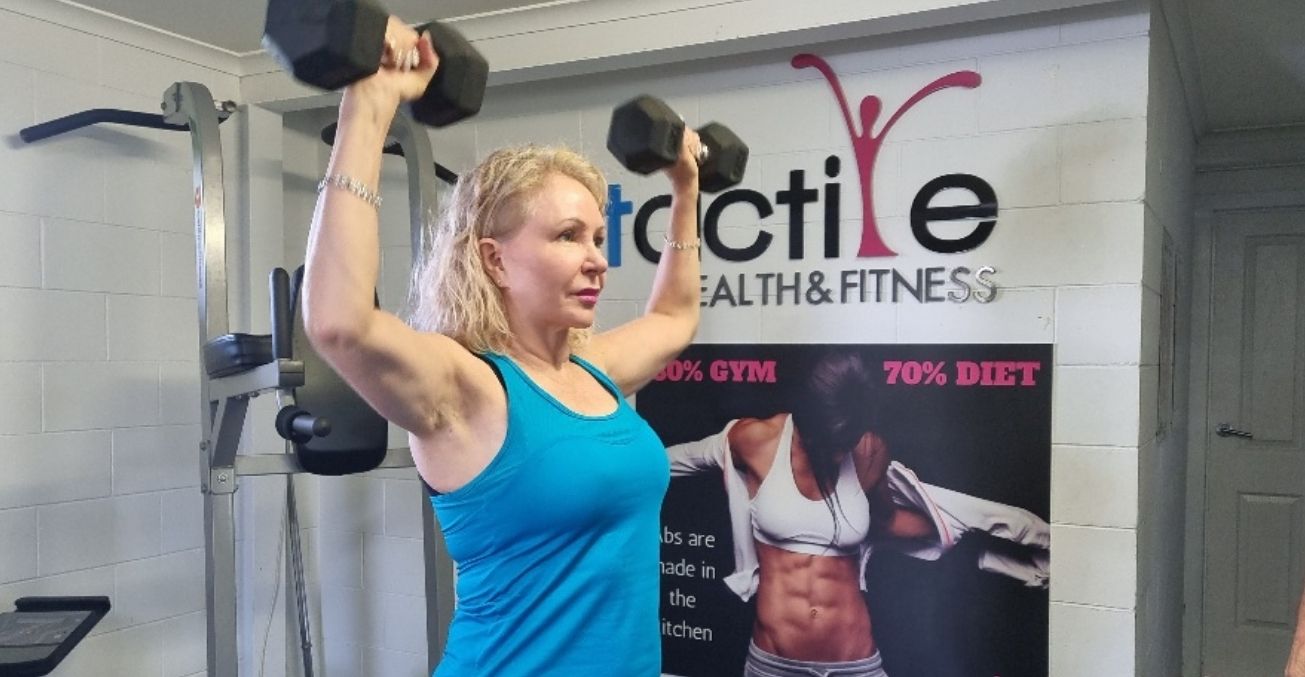 Include some resistance exercise, it not only increases your metabolism but strengthens your bones, helping to prevent osteoporosis. 
Include exercises specifically for where you are at in your fitness journey. 
Focus on all round fitness. Include a good mix of cardio, resistance, flexibility and mobility exercises.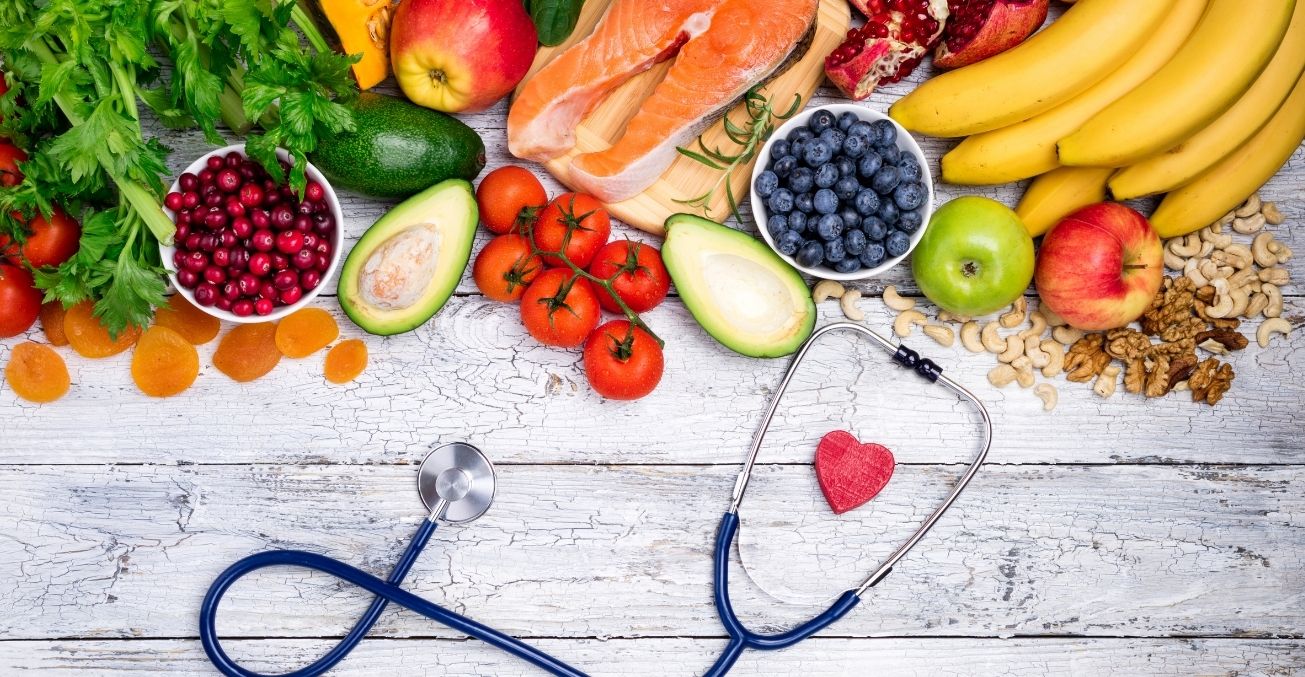 Aim to get in enough protein each day as this will help with your collagen production which is VITAL as you age.
Include a good mix of foods, the more variety and colour the more nutrients you will be including.
Check out our blog on Collagen rich foods.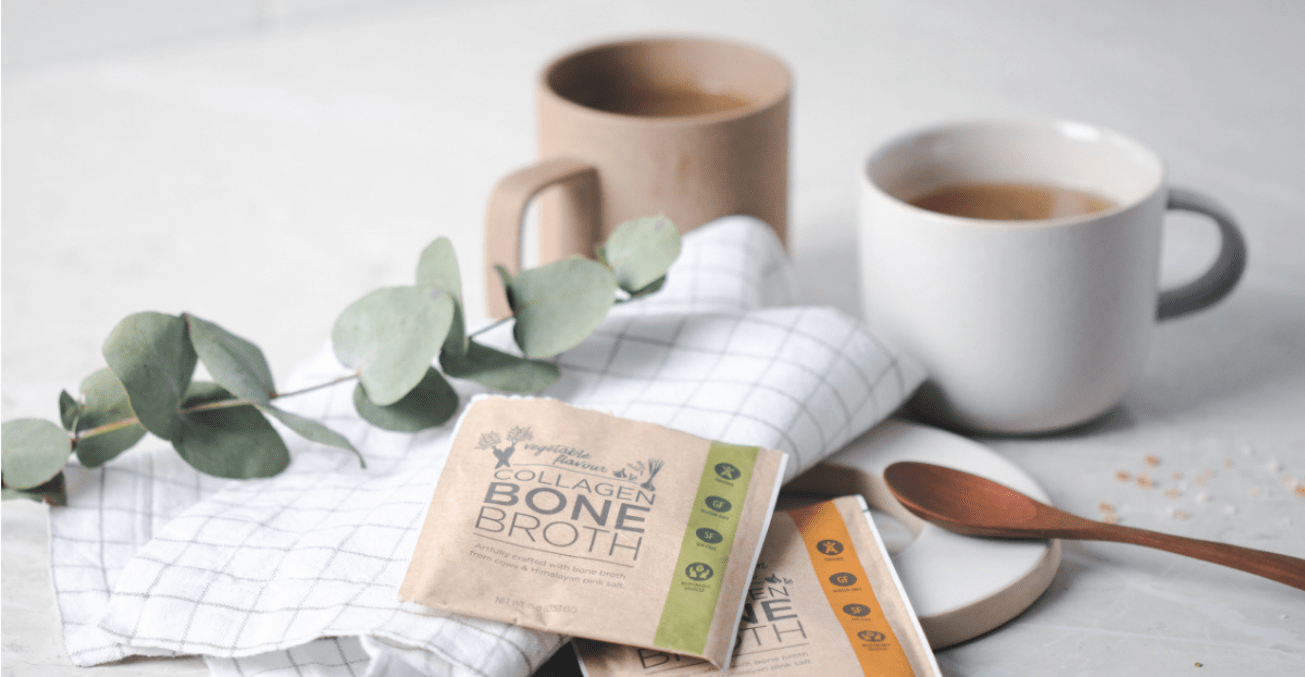 Collagen is one of my essential supplements for everyone over 40! You can find it in our Collagen Elixir and bone broth. 
If you struggle to eat enough protein including 1-2 protein shakes a day is an easy option. 
Follow my journey
Nicki's Tranformation at 64
Shop Anti- Ageing Supplements
Enhance your natural beauty and illuminate from the inside out with a daily effective dose of Scandinavian marine-sourced collagen peptides. Isagenix Collagen Elixir can give you a boost of collagen which naturally declines as we age and helps nourish your skin from within to keep you radiantly beautiful.
5 g synchronised marine collagen per serve
Double Nutri Technology to assist with nutrient absorption
Vitamin C, Biotin and Zinc
5 g fish protein
Superfood ingredients like goji, aloe vera, acerola berry, chamomile and more
Preservative Free
Zero Oxidation that only glass bottles can provide
Beauty Bundle – Increase your Collagen Intake!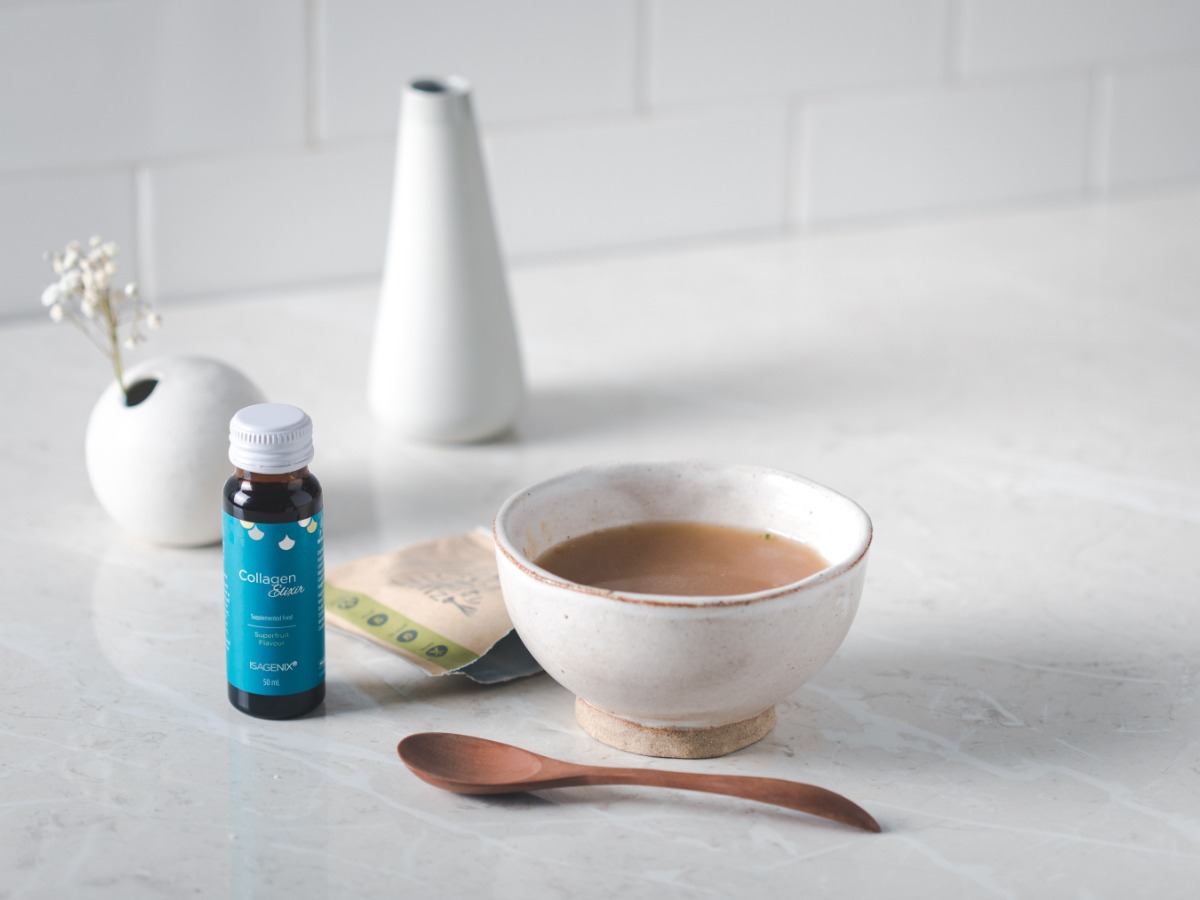 Care for your natural collagen with this all-in-one collagen pack. Three boxes of Collagen Elixir to nourish your skin with freshly and sustainably sourced marine collagen from the Scandinavian Sea and a choice of Vegetable or Chicken & Herb flavoured Collagen Bone Broth to support your skin, hair, nail and joint health.

What's included:
Marine Collagen Elixir – 5 g synchronised marine collagen per serve
Collagen Bone Broth – 6.5g of collagen peptides, 8 grams of protein.
Serenity Bundle – Restore balance to your mind and body!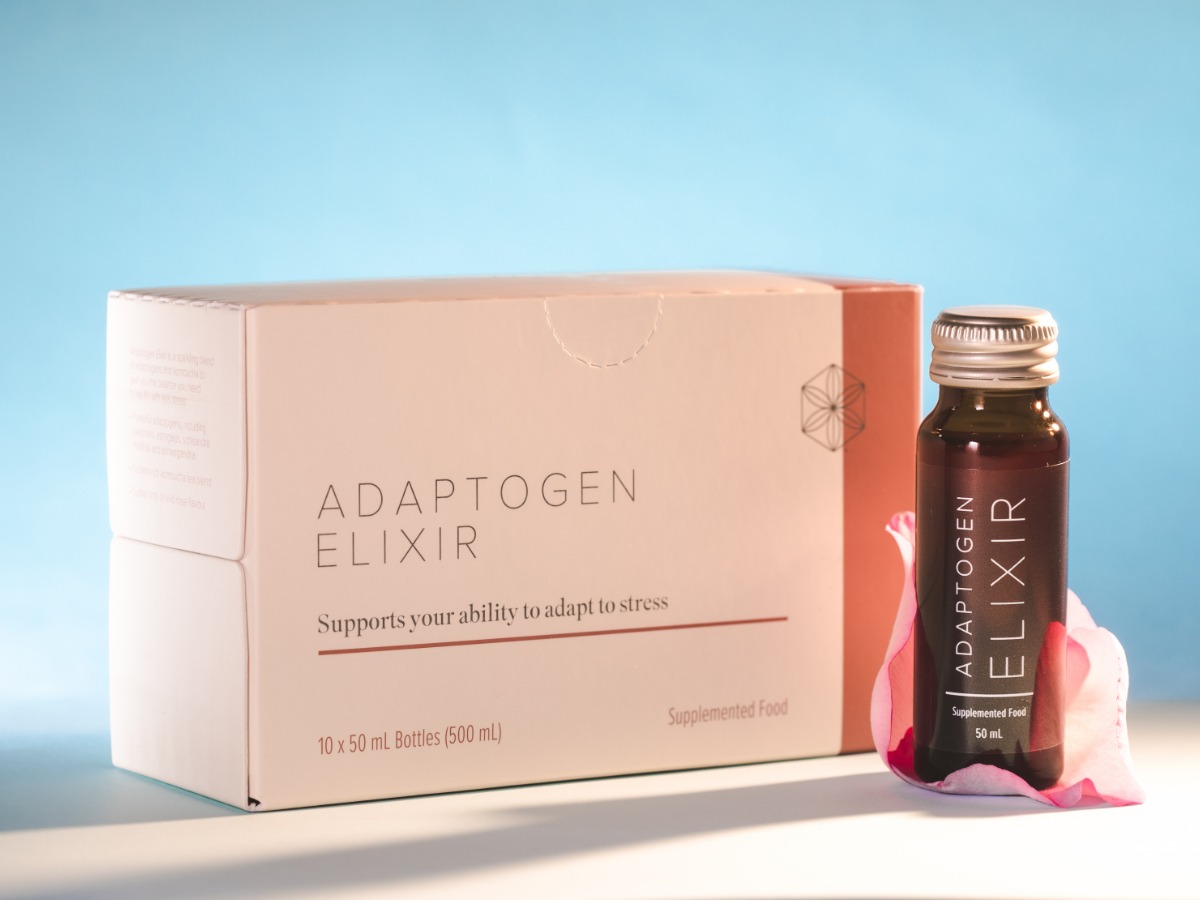 Share the serenity with Adaptogen Elixir bundles. Restore balance to your mind and body with a sophisticated blend of adaptogens, botanicals and a sparkling kombucha black tea blend with just a hint of rose for an elevated taste experience. Help your body adapt to daily stressors with a 40-day supply of Adaptogen Elixir or share the serenity with friends with the 60-day supply.
Sip serenity with a powerful adaptogen and botanical blend designed to help in adapting the mind and body to stress.
Sparkling kombucha black tea blend helps balance your body naturally.
Adaptogens help fight fatigue and improve mental clarity. }
Made from 100% recyclable glass bottles with no artificial colours, flavours or preservatives.
Cleanse-Day approved
Back to Basics - 6 Weeks Online Program with Bec Kurtz
A Simple Health and Wellness Program that helps you:
Increase Energy
Increase Strength and Balance
Feel Vibrant & Confident
LEARN MORE